Intersoft Lab offers Contour Data Warehouse Platform and a complete range of Business Performance Management solutions that help organizations to gain greater insight, control and confidence.
Data warehousing is essential practice for all competitive organizations. Contour Data Warehouse Platform brings together all corporate data into a single place delivering a completely integrated, comprehensive, 360-degree view of the organization - single version of truth. Contour Data Warehouse Platform combines data derived from disparate data sources to empower corporate management with accurate, actionable, and consistent information and to facilitate various consolidated reporting. With Contour Data Warehouse Platform corporate users gain the unique opportunity to quickly access the most needed information related to both financial and management reporting, enabling greater corporate transparency and accountability. They can have information at their fingerprints in support of financial and operational management across an organization and get the bottom of what behind trends and anomalies. They can make decisions that matter...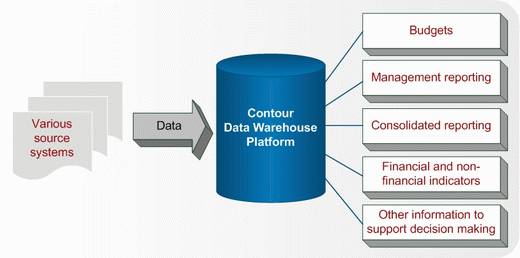 Intersoft Lab's Business Performance Management solutions based upon innovative Contour Data Warehouse Platform allows organizations to make better decisions, be proactive, and ultimately boost the bottom-line. Leveraging Intersoft Lab's Contour Data Warehouse Platform provides a solid foundation for supporting all the key business performance management activities from planning, budgeting, and consolidation, to balanced scorecarding, financial management, and compliance.
With Intersoft Lab's Business Performance Management solutions organizations can set strategic goals, translate strategies into workable plans, monitor their executions and take corrective actions. Streamlining data collections and integration from multiple sources provides a holistic view of key corporate information, enables better budgeting and planning with a single version of financial fact. Organizations can dramatically shorten budgeting and closing cycles, develop the most effective plans for reaching strategic goals, quickly model and gauge the impact of various scenarios. Corporate management can monitor the key performance indicators that drive the business to track progress and react to changes in a timely manner. Business Performance Management solutions from Intersoft Lab meet different reporting requirements including national management, legal, statutory, fiscal and regulatory requirements, as well as global reporting requirements (IAS/IFRS).